Cookies. Lots and lots of cookies.
That's what December is all about, right? The Christmas-y spirit, the warm nights next to the heater, and… the cat playing with the Fraser Fir.
Unsure whether to worry about the tree needles flying all around and sticking to the carpet, or about the tree surviving until the 25th? Just take a cookie.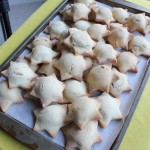 A good cookie is a cookie that can make you feel better no matter what. Even when you're right in the middle of your semester finals, like I am.
That's exactly why, when I signed up for the Great Food Blogger Cookie Swap in November, I wanted to come up with the perfect, most magical cookie recipe. One, that would not only scream Christmas (or any other holiday you are celebrating!), but that would elevate you above any worries. One, that would be refined and unique, but at the same time would bring you comfort and a sense of zen.
My inspiration? Partially my childhood. I used to eat sooo many dates around Christmas time. Partially the luxurious sweetness of the figs, dates, and honey.
To achieve that, I started with a basic fig and date cookie recipe, modified it and tested it twice, until I came up with the third and final version. Then, I sent it off to my three matches, hoping that: 1) there'd be no broken cookies, 2) my matches (Melissa, Brianna, and Val) would like it as much as I did.
And now, I'm hoping you'll enjoy it too 🙂 But, before I proceed with the recipe itself, let me thank the three bloggers who brought me joy last week!!
On Monday evening, just in time for dinner, I received Ashley's, from Savvy Table, ANZAC cookies: I love those as a snack!
On Tuesday, in time for lunch (!), I received Julia's, from SweetExplorations, Molasses cookies. Those are perfect for your coffee break.
And finally, again just in time for dinner (!!), on Wednesday I received Tiffany's, (aka Streusel) from Strudel and Streusel, Chocolate Clotted Cream Fudge cookies. Really, those can be eaten at any time.
Thank you, thank you dear ladies for sending me those wonderful packages 🙂 I loved trying out such completely different, but equally delicious cookies, from various parts of the countries! (Indiana, New York, Colorado!!!) You made my week extremely sweet and my exam session more bearable!
Holiday Fig & Date Cookies
For about 40 "double" cookies
Filling
240g (8.5 oz) white fig jam
60g (2oz) dried Turkey figs/ dried White figs, chopped finely

(You can also use Mission figs)

150g (5oz) Medjool dates, chopped finely
8 tbsp chopped walnuts
60g (3tbsp or 2 oz) honey
4tsp freshly squeezed lemon juice
6tbsp chopped semi-sweet chocolate chips (optional, but recommended)
Dough
(You'll probably end up with some extra cookie dough — roll the leftover, cut it in shapes, and bake as a sugar cookie.)
2 large eggs
3 tsp vanilla extract
large dash salt
345g (3 sticks or 1.5cup) unsalted butter, cut into small cubes + some extra (about 2tbsp), melted
690g (24oz) flour
320g (11oz) powdered sugar
Directions
Start by preparing the dough. Mix all the dry ingredients (flour, sugar, salt), and then add the eggs, vanilla extract, and unsalted butter. Make sure all the ingredients, including the butter, are mixed well.
Divide the dough and form four equally sized balls. This will make your job later easier.

(If dividing the recipe, just form two.)

Refrigerate for at least an hour.
Once you've refrigerated the dough, pull it out the fridge and start preparing the filling. Mix all the filling ingredients together and combine well. Place aside.
Take two of the four balls of dough. On a large surface dusted with flour (you should be able to lift and move the dough afterward), roll out the first ball and try to get either a rectangular or square shape. If the sides are very irregular, cut off some of the dough to get straight sides. This will be our "base" dough layer. Place it aside.
Repeat the previous step with the second dough ball, but roll it out thinner this time. This is our "top" layer. It should be thick enough not to tear, but, as thin as it can be in order to achieve a proper filling to cookie dough ratio.
Back to the base dough layer, start placing about 1/2 tbsp of the filling mix at equal intervals — as small or big as you need them depending on the cookie cutter shape you'll use.

(If you are not using a cookie cutter, you can just choose a square, ravioli shape.)

Around each filling spot, brush a bit of the extra melted butter. This is done to assure that the two dough layers will stick together.
Place top layer on base. With finger, press gently the top layer around the filling onto the base so they stick. Cut with cookie cutter or knife in desired shape.
Once you are done, collect any dough left and place it aside. It'll be used later.
Preheat oven to 350 F.
Take the two last balls of dough from the four you refrigerated. Repeat steps 4-9.
If you still have some filling left, use the leftover dough from step 9 to make more cookies as done till now. (The reason we proceeded with the "fresh" dough instead of immediately using the leftover one, is that the more you work with it, the harder it gets to manipulate and ends up tearing often.) If you don't, you can roll it out and shape it with the cookie cutter. Those will be great little cookies on their own, without any filling.
Bake the date & fig cookies for about 25 minutes. (About 20min if you are baking any without filling). Let them cool and enjoy! (They get even better on the next day!)