In a mundane world, there are small things I'm thankful for every day, such as:
Fast-dry nailpolish. This has literally saved me a thousand times.
Being a morning person. (Though, sometimes, waking up effortlessly around 4:30-5am can be a curse too.)
Online shopping.
Being a geek. Particularly useful when your RAM module fails on a Friday morning, and it doesn't take you much time (1) to identify the problem and (2) to fix it by opening the computer case and substituting the module.
Then, there are bigger things I'm thankful for every day:
Every single one of your visits and every single one of your comments.
Winning a beautiful "Flirty Apron" like this one: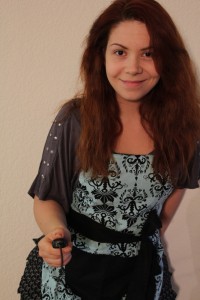 I absolutely love it. Thanks to FreeSpiritEater!
Remember last Wednesday when I told you I'd have big news for you this week? Well, earlier that morning, I had received a meetup invitation to review their new cookbook and to gather up with them and a few other bloggers. Excited, I promptly accepted.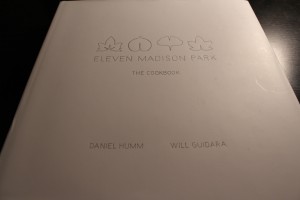 My impressions? Solely positive. I had heard of the cookbook and knew it was supposedly very good, with great photography and recipes. Yet, it was better than very good.
It was pure art.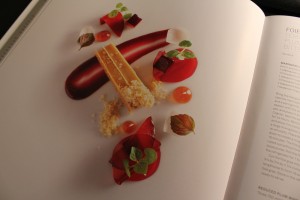 The food in this book is almost too pretty – because, how would you dare destroy something like this by eating it? Well, if you manage to get your eyes off the pretty pictures and actually read the recipes, you'll know. And you will dare.
The only thing with which I'm even more impressed is the people behind the book themselves. Why? Because, you'd think that people like them would have a much more elevated "sense of importance." Not at all. Both Daniel Humm and Will Guidara were extremely friendly, approachable, and down-to-earth. The only elevated feeling in them was a strong passion to get as close as possible to excellence and perfection – a topic talked about in their book. "Make it nice" was the quote they used when signing our books and which marked my memory. Reading the cookbook, you'll find the source behind it and why it is so important.
I'd tell you more about it, but one of the other bloggers at the meet-up, Emily, already did a very good job at summarizing the topics we covered during our discussion. You can find her post here. As for the other bloggers, please check out their sites (not all of them have posted their review yet, but will soon):
My last word about this cookbook: if you can get your hands on it, do it. Yes, the recipes are very fancy. Yes, they require some know-how. But, if you want to excel at cooking, you must challenge yourself and learn from the best, right? I know I will myself try to replicate some of their dishes as well as the styling.
(Daniel Humm and Will Guidara's own  recommendations for easy dishes were to do the roast chicken, the fish, the strawberry gazpacho, and the granola.)
Oh, and when my parents-in-law visit in January, this will be the cookbook I'll use – my best way of recommending it.
Now, off to another topic. Thanksgiving. You are probably asking yourself: "Why éclairs??? The day before Thanksgiving? It makes no sense!" Well, there's a story behind it.
I was seven when we moved to Bulgaria and, although my mother was Bulgarian, the only thing I knew was French. I spoke French, I ate French, I behaved French. For a very long time, I clung to this culture – the culture of my father – because, this was the way I had identified myself since I was born and didn't know anything else. But, what was really the worst was when I'd be asked: "So do you feel more Bulgarian, or more French?" People would try to argue for and against the different positions and to decide for me, when, in reality, this made no sense whatsoever.
As I grew up though, this taught me a lot. It taught me to see life from many different perspectives. I was part of two distinct cultures, but not in the distinct way many thought of it. I was in a category of my own. I was multi-cultural. Going to an American high-school in Bulgaria contributed even more. And then, later in my life when I came to the USA, it was further reinforced by me constantly being either in California or in NY – two quite different states.
Today, all of those experiences make me who I am. A person of the world, really. Because I cannot classify myself in any particular category. I have some very French traits (hearrr me speak, you'll know), a lot of Bulgarian character, and, depending on which of my friends you'll ask, I've become more or less Americanized. But you know what? That's who I am, and I love it. And am thankful for it.
So, back to the éclairs. Yes, I haven't forgotten about them!
See, before moving to Bulgaria, I was essentially fed on three things. Macarons, mille-feuilles, and éclairs. After I moved, I discovered that none of those could really be found in the bakeries (at least, not at the time). I could eat those only when visiting France, and that was at most once a year for a very long time. This would have been a real tragedy (especially to a 7-year old), if it wasn't for one thing my mother actually did. She did make me éclairs.
And it was because of this (and so much more my mother has done for me) that I could find a bit of comfort in some of my old habits and have the courage to embrace changes and learn to make the best of it. So today, I'm dedicating this post and this year's Thanksgiving to my mother – the person who, no matter how cliché this sounds, has always been there "pour éclairer mon chemin" or to light my way.
"Thanksgiving" Éclairs
(7 large or about 14 small/regular ones)
Note: you do not need a pastry bag. To make the éclairs and to fill them, I used two Ziploc sandwich bags.
Pâte à Choux
5 oz water
2 tsp sugar
2 oz unsalted butter, cut into small cubes
4 oz flour
3 extra-large eggs (or 4 small ones)
Important: make sure to have all those ingredients measured and read the directions entirely before you start. The process of making choux pastry is a really quick one, and you won't have any time in between the steps. Also, I recommend using a timer for the baking part.
Place in a small pot the water, sugar, and butter. Bring to boil over medium heat until the butter and sugar are melted.
For this step, there are two methods I've seen for mixing in the flour. However, whichever you choose, make sure to pour the flour at once and stir energetically with a wooden spoon. This will prevent the formation of lumps.
– Method 1: take the pot off the heat, mix in the flour by stirring constantly until you get a homogenous pastry ball.
– Method 2 (which I used and found successful and easier): just mix in the flour without taking the pot off the heat.
In both methods, once the pastry is formed, you need to cook it for about another 3 minutes. Start counting from the moment you notice there's a tiny "film deposit" around the pot when stirring the dough. At the end of those 3 minutes, you'll notice a slight change in the look the outer layer of the pastry ball.
At this point, take off the heat and place the pâte in a bowl. Let it cool down for a couple minutes. Then, using a mixer (or, if you don't have one, stirring with your wooden spoon), integrate the eggs, one by one.
Preheat oven to 400 degrees Fahrenheit.
Place pastry in pastry bag with large tips (or in ziploc bag with one of the corner cut off) and pipe on parchment paper placed over your baking sheet. Make sure to have both width and height, so you don't end up with flat éclairs. (Also, try to make them as equally sized as you can.)
Then, place in heated oven and:
– If making small éclairs, cook for 15 minutes, then decrease the heat to 375 degrees and cook for another 5-8 minutes.
– If making large ones, cook for 20 minutes, decrease oven heat to 375 and cook for another 10-15 minutes depending on size.
The result you are looking for is a nice golden color all around. If you take the éclairs out too early, they will sink and you'll be left with some Naan bread look-alike. If in doubt: take one out and if it doesn't collapse within 30 seconds, you should be safe.
Place ready éclairs aside to cool down and begin the preparation of the filling and icing.
Icing
Two options (I made some with both):
Powdered sugar – just sift and dust over the éclairs, OR
Make a ganache using equal amounts of chocolate and heavy cream. I used:
4 oz semisweet chocolate chips
4 oz heavy cream
Place ingredients over medium heat in a small pot until the chips begin to melt. Take off the heat and stir until the chocolate is completely dissolved. Dip the top of each éclair in the ganache and place to rest on a plate.
Filling
You can make pastry cream (crème pâtissière), or, if you are in a hurry like I was, make some whipped cream:
1 cup heavy whipping cream, cold
3 tbsp cocoa

(If you want a really chocolaty taste, you can calmly add another tablespoon or two)

3 tbsp sugar

(adjust according to sweetness preference)
In a cold bowl, pour the ingredients and beat at high-speed with your mixer.
Then:
1) use a pastry bag with a thin and long tip gently inserted into the éclair to squeeze the filling in it, or,
2) slice the éclairs into two, and place filling, either by spooning it or by piping it using another sandwich bag with a cut-off (small) corner