Today is a rainy, foggy day in San Fran. Our new kitten, Eva, (check her out here), is having fun by looking out the window and watching the rain drops fall. And I, my dear friends, am looking to make a comforting, yet quick lunch. Something which screams homemade, but doesn't require too much time and attention.
What about some fresh and spicy three-bean chili? Here's how to make a great one quickly, thanks to a small "cheat" which won't sacrifice the taste.
Quick & Spicy Three-Bean Vegetarian Chili.
(Adapted from The Three-Bean Vegetarian Chili in The All New Good Housekeeping Cookbook.)
The "cheating" in this recipe comes from using canned beans rather than soaking and cooking them yourself. Doing so halves our efforts and decreases most of the time it'd take to get this chili ready. And believe me, it still tastes absolutely great!
Ingredients:
(For 5-6 bowls)
1 tbsp olive oil
2 cups water
1(15 oz) can black beans, ready to serve
1 (15 oz) can white kidney beans, ready to serve
1(15 oz) can red kidney beans, ready to serve
1 large (28 oz) can diced tomatoes
½ cup fresh cilantro, chopped + some extra to sprinkle
1 red pepper chopped
1 red jalapeño, finely chopped
1 green jalapeño, finely chopped
2 medium onions, chopped (if large, use 1 ½ as I did)
3 garlic cloves, finely chopped
2 stalks (ribs) celery, chopped
3 large carrots, chopped
(Note: original recipe calls for 10 ounces frozen corn, but I purposefully omitted it. Of course, if desired, you can add it.)
2 tsp salt
½ tsp black pepper
1 tsp red pepper
½ tsp oregano
2 tsp cumin (ground)
½ tsp coriander (ground)
¼ tsp cinnamon (ground)
(Note: I advise you prepare a mix in advance to facilitate the adding of spices during cooking.)
6-12 tbsp sour cream, optional (1 or 2 tbsp per serving/bowl)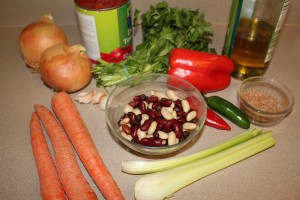 Don't let this picture fool you. There were many more beans waiting behind the camera.
Directions:
1. In a 4-quart saucepan, heat the olive oil over medium heat.
2. Add the chopped celery stalks, red pepper, onions and carrots. Cook for about 10 minutes or until the carrots are starting to soften, stirring frequently for even cooking.
3. Add the two jalapeños and the garlic, combining well with the rest of the veggies. Wait about a minute and then stir in the spices too (cumin, coriander, cinnamon, salt, oregano, black and red pepper) together with the tomatoes. Simmer for 10 minutes.
4. Add the beans and water. Combine well and continue to simmer for 20 more minutes. (If you wish to add corn, do so for the last 5 minutes.)
5. Stir the cilantro into the ready chili, removed from heat.
6. Serve with a bit of extra cilantro and a tablespoon (or two!) of sour cream on top.